Adventure Power All-In-One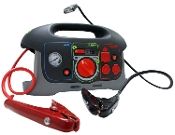 Adventure Power All-In-One
Air Compressor - 250 PSI internal air compressor capable of inflating an automobile tire in 10 minutes. Pressure gauge and ON/OFF switch on outside. Compressor is thermally protected from overheating. Strong, fabric-covered output hose with clamp-on valve stem coupler. Includes multiple nozzle attachments for inflatables, tires and more.
Jump Starter - 4 gauge cables, 29" reach. Battery status indicator to signify the charge-state of the internal battery. Heavy duty, 400A insulated metal battery clamps.
Power Converter - Two 12V DC power sockets for powering 12V accessories; protected with a 30A manual-reset circuit breaker. Ergonomic handle; doubles as protective housing for docked clamps. 12V 1 amp internal battery charger. Two-stage charger allows for charger to be connected to wall outlet indefinitely. The internal battery can be maintained at a full charge at all times. 200 watt, DC/AC internal power inverter; ON/OFF switch and AC power outlet; fan-cooled.
Questions? Call 928-344-9008 or email kyleu@powerquality.org
Reviews